Thank you to Third Church for the use of the parking lot.
Thank you to volunteers who helped despite the rain.
Thank you to those who donated to Gateway.
Thank you for making our community look nicer.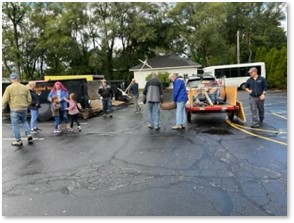 October 7, 2023 | 10am – 1pm
Third Reformed | 111 W. 13th
Assistance:
*We need volunteers to help with a truck picking up items from homes and heavy lifting.
*We need volunteers at Third to guide people and help unload items (lighter lifting).
*If you need the truck to stop at your home and would like to be on the list, email your name, number, and address into the office.
Email info@washingtonschoolneighbors to volunteer or be put on the list for help.

Macatawa Dumpster will not accept:

Appliances
Antifreeze
Concrete
Liquids
Oil Paint
Tires need to be cut into 2 pieces.
Gateway donation truck will not accept:
Cardboard
Child / Infant – cribs, car seats, highchairs, Pack-and-plays, strollers
Cleaning products and paint that are used
Firearms
Mattresses & box springs
Office cubicles
Printers
Scrap metal
Shower doors
Socks – unless new
Tin cans
Tube TVs
Underwear – unless new in package
VHS and cassette tapes