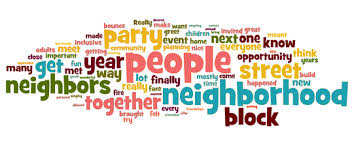 The only way for a neighborhood to flourish, is for neighbors to play an active role in the development of their community. Washington School Neighbors only exists to support and encourage neighbors in their dreams for this neighborhood. We have seen such acts of kindness and people who are willing to work together to help one another. The relationships that have been strengthened through these shared goals have laid a foundation for inclusiveness. We want to continually make space to listen to neighbors and their stories, so we will update this page as more people are willing to share their experiences. It is through our stories that we invite others into our lives. That is what community is all about. Enjoy!
Story 1
"Being a Block Connector is a challenge for me because I'm not very confident in knocking on doors or leaving flyers on doors of people who do not know me.  I fear I'm invading my neighbor's space and privacy, both, which I've not had until I moved to Holland two years ago. My history is being a preacher's kid, preacher's wife, church leader, teacher in People's Republic of China all positions that did not afford me space and privacy.  Church members in the parishes my family served knew how much water and electricity we used. They knew where we'd go to rest. The homes I lived in had never been mine. While living in China, my apartment was bugged so that every conversation was heard by my employer. My whereabouts and with whom I spent time were noted.  So, I'm very self-conscious about encroaching on my neighbor's space.  
I am driven, however, by what I sense to be God calling for me, and that is to love people and help people to love one another.  I live on 10th St.between Maple Avenue and Washington Boulevard. That block is my assignment. I had already noted that some neighbors have known each other for a very long time and have established good relationships.  For that I am grateful . I am the new kid on the block. The work to organize and create more opportunities for neighbors on that block to get to know each other, to spend time with each other and to ultimately care for one another is difficult and slow going.  I couldn't continue to do this if it weren't for Washington School Neighbors. Lisa Kasten, as Director, and the Board, which supports her are a tremendous support to me. Lisa, particularly exudes encouragement. She says words of encouragement and she writes notes of encouragement.  Washington School Neighbors encourages me to carry out an idea, such as organizing leaf raking, women's coffee time, hosting block connector meetings, or refrigerator magnets. Not only does Washington School Neighbors encourage me, but I know they have my back. They help with supplies, printing, and publicity and  a presence taking pictures at an event. At the completion of an idea, Lisa listens to my "What I could do better next time" banter.
The reward in this challenge as a Block Connector is seeing neighbors becoming increasingly neighborly.  For this, the support of Washington School Neighbors is very vocal. Words of praise and thanksgiving are always expressed.  I am very grateful for Board Member, Mark Edgington, for having captured my interest in serving as a Block Connector for Washington School Neighbors, and to Lisa, the director for her leadership and support of my efforts!"
~Moira
Story 2
"Like most neighborhoods, ours could survive and function without a local community organization. But in so many ways, Washington School Neighbors helps elevate us from a community that survives to one that thrives. WSN inspires a contagious spirit to live out the exhortation, "Let us think of ways to motivate one another to acts of love and good works (Hebrews 10:24 NLT)."  The result is better communication, understanding, and neighborliness. Here are some recent examples: The dumpster program led to various neighbors helping other neighbors move burdensome bulk trash items from their yard to our block's dumpster. First United Methodist Church's SON program helped a family rebuild their fence that had fallen down the previous winter. The ice cream social helped residents make new friends, welcome new neighbors, and experience the gracious hospitality of the hosting church. Some collateral benefits from these acts included: improving our block's curb appeal, mending a strained relationship, advertising community events, and motivating more acts of love and good works. It is truly a privilege to live and serve in WSN!"
~Dale