Did you know?
The City of Holland is drafting a new master plan. They've been working on it over the past year, and plan to have a draft before the year's end. Below is the project time line.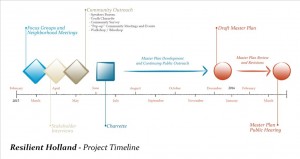 They are seeking citizen collaboration. Some residents have been providing input along the way. Resilient Holland Master Plan Project is the process they are using, which has included some public input sessions. On Nov 5th, for example, they hosted a presentation at St. Francis De Sales for community members to offer input on these areas:
Economy
Environment, Energy, and Sustainability
Transportation
Recreation and Parks
Social Services, Health, Community Health
Housing
Urban Design
Food and Agriculture
If you would like a say in what gets considered for the master plan, please let your voice be heard! You can fill out one of these FEEDBACK WORKSHEETS and send it in to Sue Harder ([email protected]).
For more information on this process, go to RESILIENT HOLLAND WEBSITE
[EDIT: the master plan is now completed, and available here.]